Before we hibernated for our Thanksgiving Break, the Knowi team took to Boston to attend the Chief Data & Analytics officers (CDAO)conference hosted by Corinium Global Intelligence. CDAO was attended by leading Data analytics officers from around the country and we proudly served the one thing everyone at the conference wanted… GREAT coffee.
While everyone set up booths and got ready for their keynote talks, we brewed, frothed, and sipped our way through the chilly Boston days.
What is CDAO?
Hosted by Corinium Global Intelligence, who specialize in market intelligence, advising, and hosting impactful events for C-Suite executives, The Chief Data & Analytics Officers Conference is the largest gathering of Executive-Level Data & Analytics Leaders on the East Coast. It aims to give these executives the resources and network to transform their company into a data-driven organization. A process we like to call digital transformation which gives businesses an instant advantage in their market by allowing data-driven decision making across the entire company.
Why did we choose CDAO?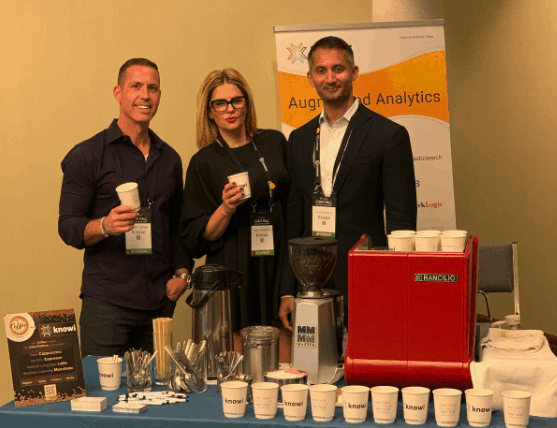 With so many conferences available for the data world, some may wonder why we chose to avoid the glitz and glamor of major conferences–where the hangover you leave with is bigger than the network of people you meet there–and attend a smaller conference.
For Knowi, it is quality over quantity and attending a smaller conference with high-quality individuals from many different industries proved to be the best situation to increase our knowledge of current ideas and future projections for the data world.
So… what happens when data geeks pretend to be baristas?
We combined our two great loves in Boston: data and coffee. We got to supply them with the single caffeinated product they needed to make it through the conference while teaching all attendees about the single BI product they need to manage, analyze, and display their data. It also gave us a chance to see how we would've faired in an alternate universe where we became baristas instead of data scientists.
So the first-ever Knowi Coffee Cart was born. Serving up Data Cappuccinos, No ETL Espressos, Natural Language Lattes, and Machine Learning Macchiatos.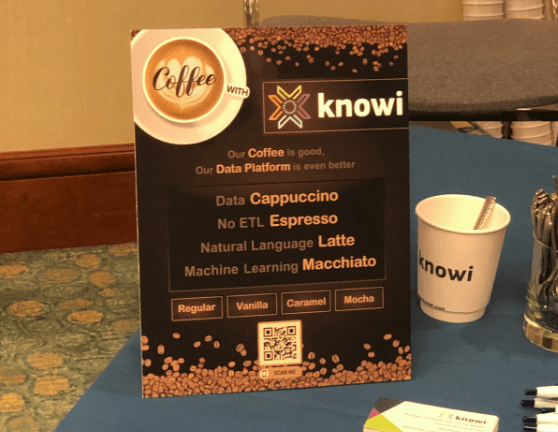 We didn't come to sell, we came to listen
A lot of vendors come to events like CDAO to try to sell their product. Months before, the Knowi team sat around a table in our office in Oakland, California and decided that we were going to do something different: we were going to listen.
As a third-generation analytics platform, it is important for us at Knowi to listen to the frustrations and pain points of those high-level data and analytics officers as well as what they are enjoying most in the industry. We then report these findings directly to our solutions engineers and product team so they can use this knowledge to improve the Knowi platform. The data industry is always pushing forward, so we push just as hard to be the best solution out there.
During our conversations with attendees, we tried to always check in about a few of the same things:
Is their company data-driven?
How far has the data transformation at their company progressed?
What are their current challenges with BI tools?
We learned a lot about the pain points Chief Data Officers and Chief Analytics Officers face from these topics. The challenges faced were as varied and numerous as the countless different data sources out there. But there were a few themes that emerged. We will be covering those in a future blog post titled: What CAOs and CDOs struggle with most: Our top 5 observations after a whole latté discussions about data.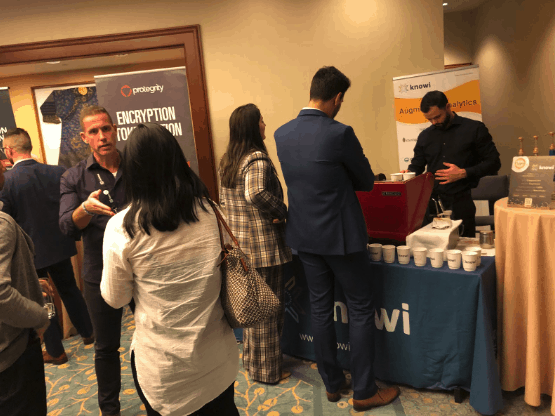 Final thoughts
It was great getting to talk to so many interesting people but I think we'll keep our day jobs–foaming milk is hard.

Feeling that CDAO FOMO?
Reach out to us. We'd love to grab a coffee and talk about your business intelligence needs. Or set up your FREE 21 day trial here