What is Snowflake?
Today, data is a core asset for modern organizations and the ability of technology to scale has caused a surge of big data. Storing and managing data is now an important function for modern business operations. Every organization is looking to choose a data platform that can handle huge volumes of big data at high speed and with reliability. Most organizations are using a cloud data platform and others are considering moving their data to a cloud data platform.
Snowflake is one of the most preferred cloud data platforms. It operates as a cloud data warehouse and it's well-known for its ability to work in multi-cloud infrastructure environments. It is a data warehouse solution built on top of Microsoft Azure or Amazon Web Services cloud infrastructure, and it allows both compute and storage to scale independently. Snowflake gives its users a single platform for data lakes, data warehousing, data science, data application development, data engineering, and secure sharing and use of shared/real-time data. It also comes with out-of-the-box features like on-the-fly scalable compute, data cloning, and support for third-party tools to handle the needs of growing enterprises. This article is an overview of the Snowflake cloud data warehouse platform.
Why has it become so successful?
The following are the reasons why Snowflake has become a successful cloud data warehousing solution:
1. Instant and almost Unlimited Scalability
The Snowflake architecture relies on a single elastic performance engine that offers high speed and scalability. Snowflake can also support a high number of concurrent users and workloads, both interactive and batch. This can be attributed to its multi-cluster resource isolation feature. Snowflake is robust and high-performing, giving organizations the confidence they need to handle all types of data workloads.
2. Simplified Data Processing
Snowflake allows users to do data analysis, data blending, and data transformations against different types of data structures using a single language, SQL.
3. A Single Data Copy, Shared Securely
Snowflake eliminates cumbersome ETL steps and data silos and instead offers cross-region and cross-cloud connections and data sharing. It also has a single shared data source, giving teams across the enterprise surety that they are working from a single source of truth, which makes decision-making and remote collaboration fast and easy.
4. Third-Party Data Integrations
The Snowflake Data Marketplace has third-party data and it allows you to connect with snowflake customers to extend your workflows with third-party applications and data services.
5. Pricing Model
Snowflake's pricing model is based on demand rather than the typical SaaS subscription model. It allows users to choose the amount of storage and computing they need before paying for it based on utilization or on a monthly fixed-rate model.
What are its Pricing Models?
Traditional data warehouse solutions were built on existing software platforms or on-premises databases. Snowflake was built on Amazon S3 and it was designed to take advantage of mass cloud data storage.
Snowflake offers a flexible pricing model in which you only pay for the compute and storage resources that you use. Data storage and computation are also billed separately, so storage costs are factored in after calculating the usage costs. If we use the US as the reference, Snowflake storage costs start at a flat rate of $23/TB per month (accrued daily).
Its compute costs $0.00056 per second, per credit, for its On-Demand Standard Edition. Snowflake has seven tiers of computational warehouses. X-small is the smallest cluster, and it costs 1 credit per hour, or $2/hour. As you move up the tiers, the per-hour cost in credits will double, meaning that the costs can pile up very quickly. It offers 4 pricing plans namely Standard, Enterprise, Business Critical, and Virtual Private Snowflake (VPS) each with different features.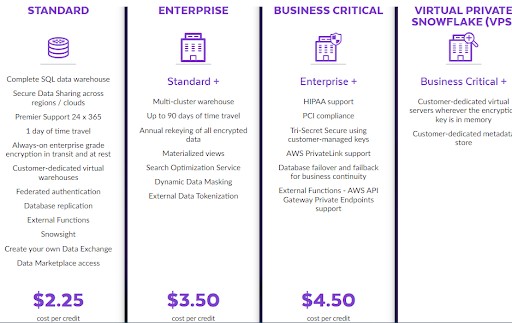 The dynamic pricing model offered by Snowflake can be very helpful to your enterprise. It means that the clusters stop when there are no running queries and resume automatically when new queries are initiated, with the ability to size themselves up and down depending on the workload. This means that your Snowflake costs will go down as your query load decreases.
Who are its Competitors?
Although Snowflake is a powerful cloud data warehouse platform, it faces stiff competition from a number of other cloud data warehouse platforms. Below are the two top Snowflake competitors:
1. Amazon Redshift

Amazon Redshift is a cloud-based data warehouse of the Amazon Web Services cloud platform. Redshift was designed for data scientists and data engineers. It is a fast and fully-managed data warehouse solution, which makes it easy to analyze data using SQL and BI tools.
However, Redshift requires its users to rely on third-party tools when it comes to ETL (Extract, Transform, Load) and data transformation. This comes with additional costs, setup, and maintenance. Redshift users have also reported poor performance when running parallel queries.
Redshift is GDPR and HIPAA compliant. It has a 2 months free-trial period, after which users are charged $0.25 per hour.
2. Databricks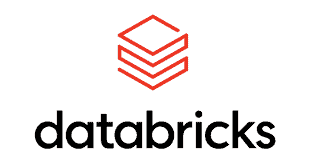 Databricks is an enterprise software company that provides its users with a cloud data platform for automated cluster management. Databricks brings together machine learning, data engineering, and collaborative data science. It groups its assets into workspaces. A Databricks workspace organizes objects, that is, libraries, notebooks, and folders, into folders and offers access to data and computation resources like jobs and clusters.
The Databricks platform provides cross-functional teams with a secure way of communication. The teams concentrate on their data science, data engineering, and data analytics tasks as Databricks manages the backend services.
Whereas Snowflake is used to handle structured and semi-stuctured data, Databricks works with all types of data, even unstructured. Recently, Databricks became a data lake vendor. First, they added Delta Lake, which requires integrations to work with other engines. The list of integrations has been growing steadily, and other engines have direct access to the data.
Snowflake Analytics using Knowi
The Snowflake cloud data warehouse platform offers unmatched flexibility, automatic scaling of storage, security, and seamless integration with various BI tools. While you can use a BI tool of your choice to analyze your Snowflake data, consider Knowi on Snowflake as it provides many added benefits.
Knowi provides intelligent query execution capabilities with the ability to store query results within Knowi that will reduce your compute and storage costs on Snowflake.
Provides native integration into Snowflake, including arrays, JSON and custom data type support.
Knowi comes with advanced data analytics features, including search-based analytics that allows non-technical users to ask questions in plain English and get instant responses even in the form of graphs and tables.
To learn more about how to connect Snowflake to Knowi as the data source, query data from Snowflake, analyze the data by creating visualizations and more, visit the following blog tutorial.