10x your Internet of Things analytics projects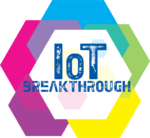 Knowi has been selected as IoT analytics platform of the year
By the IoT Breakthrough Awards for 2020
IoT Analytics Dashboard Example
Allow event operators to monitor capacity in real-time using a single dashboard to easily identify opportunities to reduce waste. Use anomaly detection to reduce risk and anticipate safety hazards.
IoT Fleet Management Dashboard Example​
Monitor the status of your cars, bikes, mopeds, trucks to schedule preventive maintenance and understand operational under different conditions.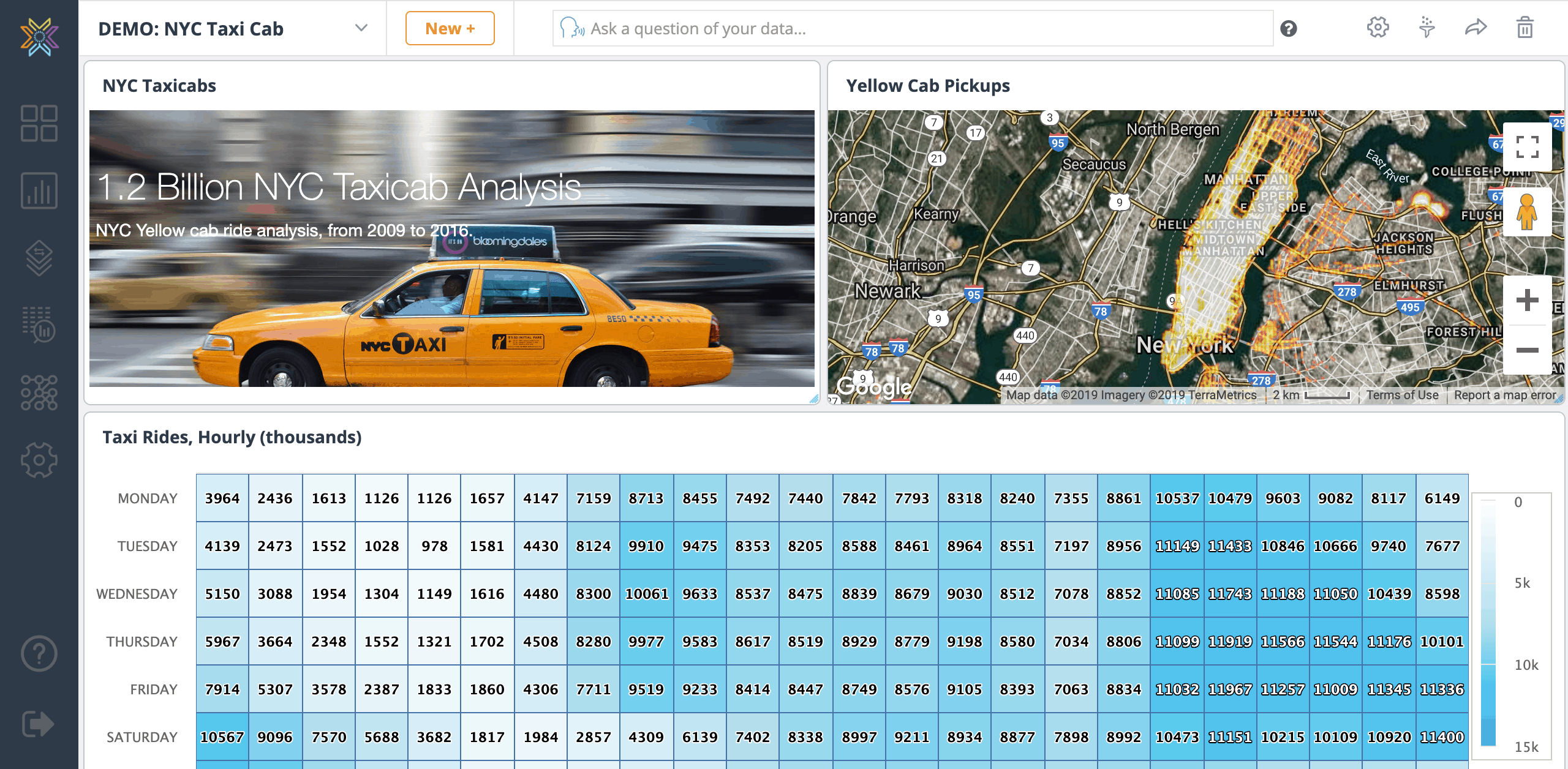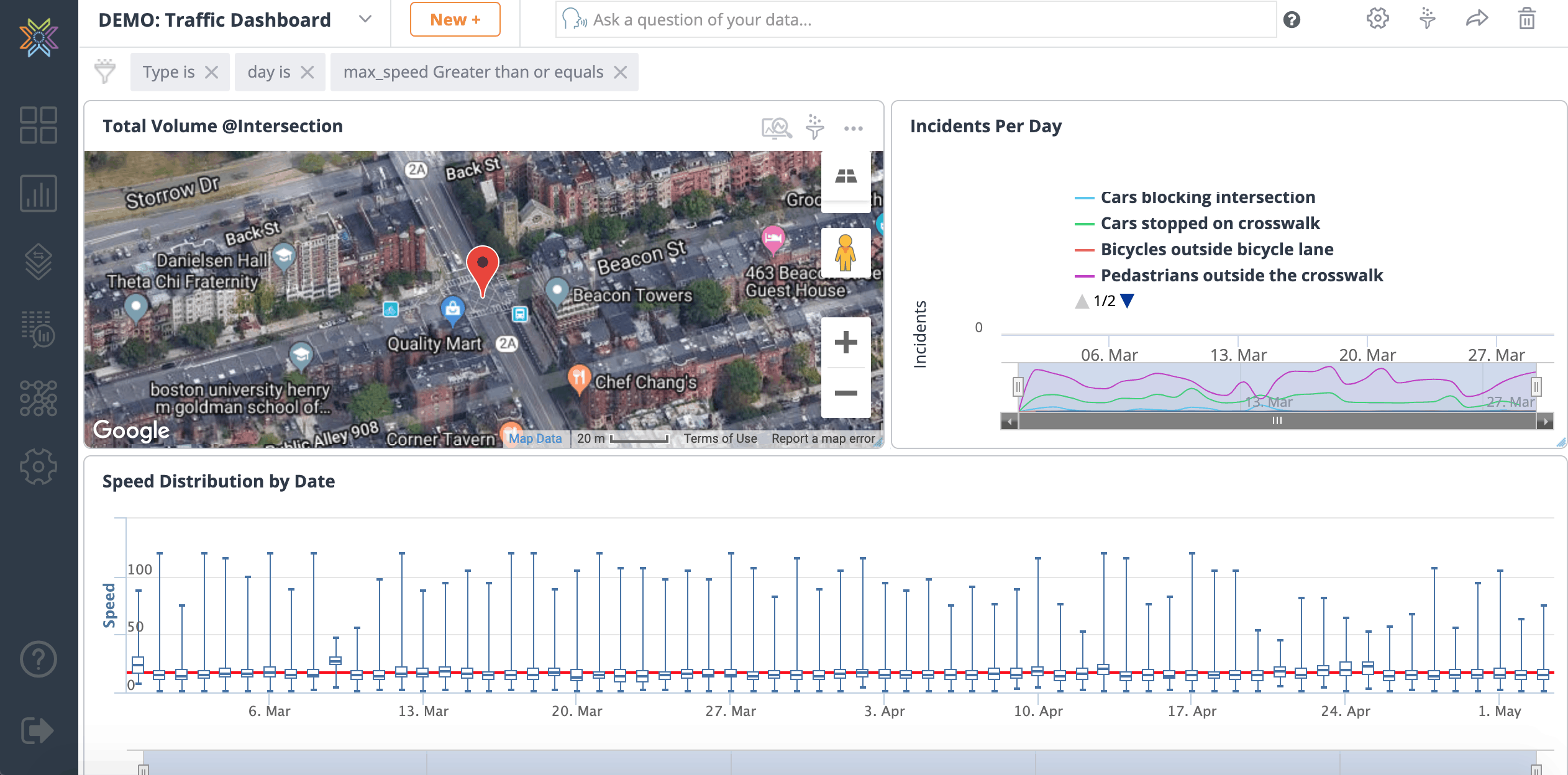 Smart Cities IoT Dashboard​
Provide traffic managers with easily understandable dashboards to optimize traffic flow, reduce violations, and improve bike and pedestrian safety
Want to see how it works?
No credit card. No obligation

Native Integration to IoT Data Sources
Knowi natively integrates to all the popular time-series NoSQL data stores enabling instant integration to your IoT data, without moving or manipulating it first. We don't move your data for analytics or require you to install any drives, etc. When we say native integration, we mean native.

Join with Relational Data Sources
Knowi uniquely enables you to create blended datasets on the fly through our innovative query interface. Join as many sources as your want, including REST-APIs, in a single query. All join types are supported. All you need to know if the join key and we take care of the rest.

Embed Analytics in Your IoT Applications
Knowi comes with over 30 visualizations that you can easily embed into your IoT applications. We provide a number of embed options to meet every use case. Brand Knowi dashboards as your own for a continuous user experience for your business teams, customers or partners.
Frequently Asked Questions
Questions and answers about IoT analytics​
IoT analytics is the application of data analysis tools to process and gain insights from IoT data. There are many possible goals for IoT analytics--it varies widely by the specific use case. But IoT analytics is often used to enable data scientists, engineers, or decision-makers at a company to do things like monitor IoT data pipelines, make data-driven decisions, and build data-driven solutions for IoT applications. Companies in industrial automation, healthcare, government, consumer technology, and countless other industries can benefit greatly from IoT analytics.
What is IoT data ingestion?
IoT data is distributed and disparate in nature. This means that to enable real-time IoT data streaming and analytics, you must have an efficient method of data ingestion or integration. The ingestion step usually involves automated data collection across different data sources, aggregating everything into a data warehouse or data lake. Depending on the nature of the data collected, the design of the ingestion process and storage will vary widely.
What is IoT data transformation?
In data transformation, you merge or join the collected data as needed and run any additional operations to get it into the optimal format.
Gartner has predicted that by early in the 2020s, that more than half of major new business entities will incorporate some elements of IoT in their systems. The complexity of the vast volumes of data generated through these IoT systems creates a need for deep data analytics tools and skillsets. However, IoT data tends to be far messier than common business data, incorporating large streaming volumes of data that are often geospatial in nature. With such complex data, gleaning any insights or understanding from it will require an IoT specific analytics solution.
IoT analytics can be used to simplify that enormous volume of data into actionable insights and understandable dashboards.
Ready to see how Knowi can help?
Sign up here for a 15-minute demo where we will learn more about your use case and recommend a few features that may be a good fit for what you're trying to accomplish.